How to customize my online store footer
You want to update the content of your online store footer, it's possible to do it with one of the visual editor tab.
In your merchant administration interface, click on the Look & Feel (1) tab then Visual editor (2) then on the Footer (3) tab .
On the new page, you can see all the different contents that you can add or modify to your footer.
Add logos from your social networks
You can easily add in your footer the clickable logos of your social networks pages: Facebook, Twitter, Google My Business etc.
To do it, you just have to enter the URL of your pages in each respective field (A): the logos are displayed as soon as a link is entered in their field.
Quick tip: make sure you don't add mobile links with an "m." before the site name.
Add the logos of accepted payment methods
To display to all your customers the types of credit cards and other payment services authorized on your online store, such as Visa, Mastercard, Google Pay, Apple Pay etc. you just need to activate the switches of the logos you want to display (B).
Add a registration field to your newsletter
To add a suscription field to your newsletter, you must first of all adding your newsletter account : How to add your Mailchimp account
Once done, you can activate the Collect email addresses button (C1). As you can see from the example above you can display a title (C2) and a text (C3) with the subscription field.
Add a custom text
You want to inform your visitors about a specific information, the custom text is for you. Write and format the text (D) and save to be added in your footer.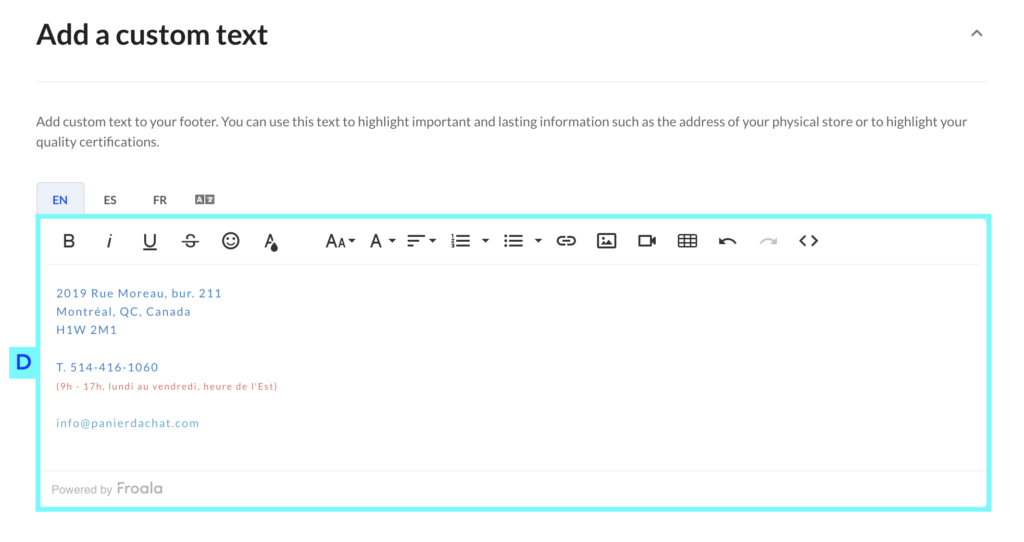 Add your Instagram Feed
To display your Instagram feed, your Instagram account must be connected to your store. To do it, click on Configure (E) then you can manage the display of your Instagram images: How to connect your Instagram and manage the display of the feed.
Customize the footer colors
In the Visual Editor, go to the Colors tab. In the section "Footer" you will be able to change the background and the text colors.