How to configure Postal codes shipping on my online store
Following the confinement of many local shops have acquired an online store. Their request: to be able to deliver only in a very precise area around their business.
To meet this expectation we have implemented the postal code shipping method (available only for Canadian postal codes).
With this method, you will be able to set a fixed price for all other postal codes not mentioned (ie all countries accepted).
Here's how to easily and quickly configure your desired delivery area.
First in your merchant administration, click on the Settings tab (1), then Shipping (2). In the list of shipping methods, click on the 3 points of the Postal codes method (3) then Set up (4).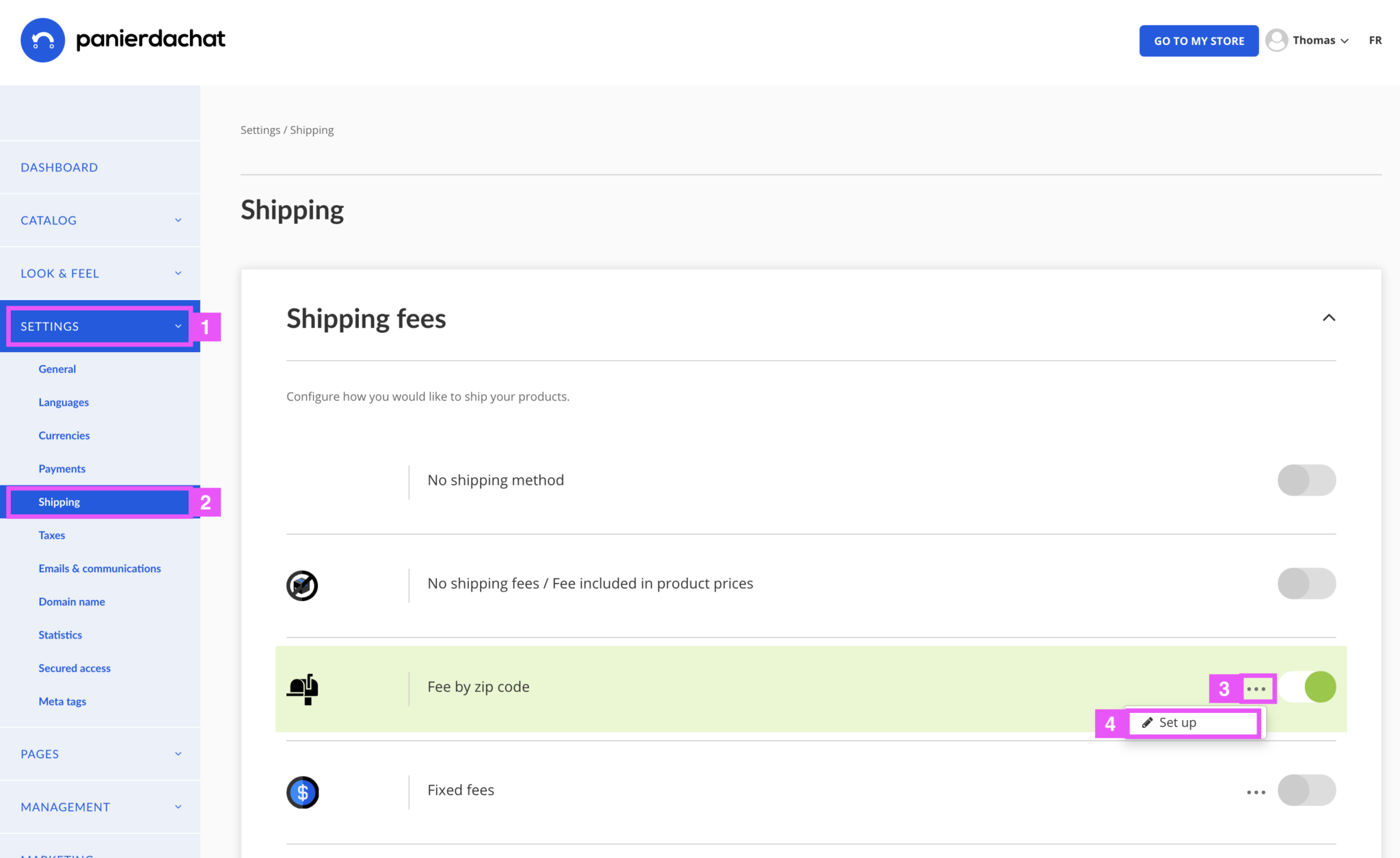 Once on the configuration page for postal code delivery, you must click on the blue Add zone button (A) to add a delivery zone. Give it a name (this name will be displayed to your customers in the Delivery part of the checkout), remember to make the different languages ​​if you have more than one (B).
For the postal codes (C) field you can inform a specific postal code by noting it entirely (eg H1R 2W1), in order to target a district you can only put the first 2 or 3 characters followed by a star (eg H1 * or H1R *) this will aim to take into account in this area all postal codes starting with these characters.
Find help for Postal codes in Quebec cities.
The right column allows you to inform the delivery price for this area. If you wish to offer free delivery for an area you must check the "Free" box (D).
To the right of these fields a cross allows you to delete the zone (E).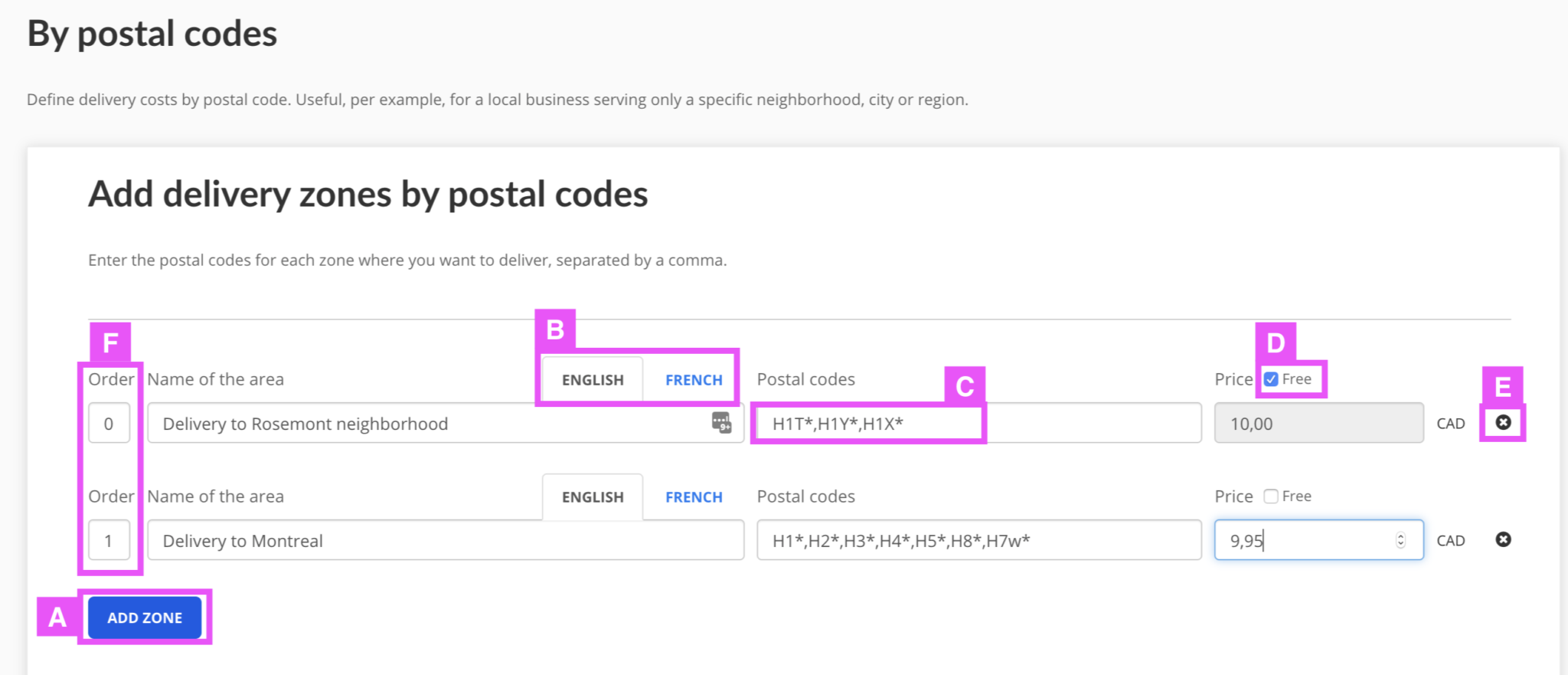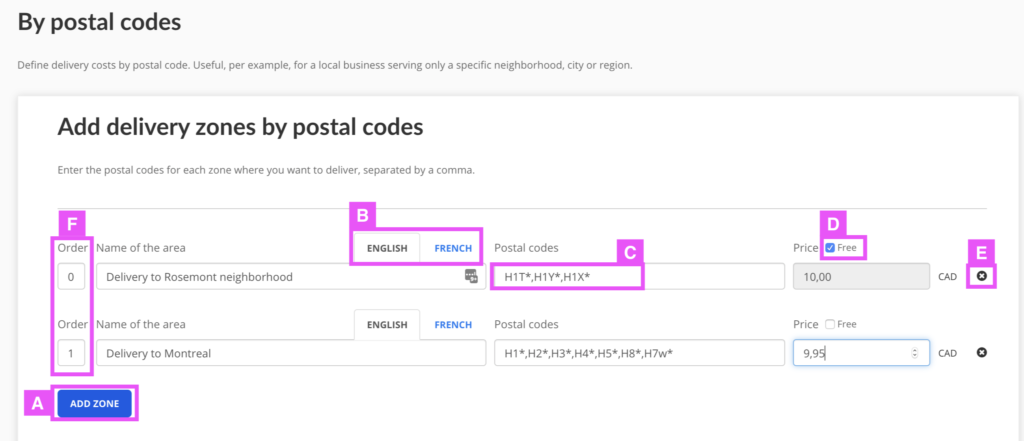 The zones order is important (F), it allows you to specify a district in a large postal code. As in the example in the image above, if you wish to offer free delivery to the Rosemont district (postal codes starting with H1T *, H1X * and H1Y *) you will have to put it first because in the "Delivery" area Montreal "the H1 * code is informed and therefore includes the 3 Rosemont codes.
By putting a smaller number in the Order column for the Rosemont area, the postal code H1T 2R2 for example will take advantage of the free area and the H1G 1R1 code will have delivery at $ 9.95.
Tip: arrange your areas from the smallest to the largest.
Then you will have to choose between two options for postal codes that you have not specified (G).
Either "Do not allow shipping", this will display, to visitors entering a postal code not specified in your areas, the message "Delivery area not available" these customers will be able to take advantage, if you offer it, of pickup in store.
Either "Display a single price", this allows you to leave customers outside of your order zones without having to enter ALL postal codes. You can therefore propose a name for this delivery and a fixed price.
Finally remember to activate the method you have just configured by clicking on the switch in the list of shipping methods (this will aim to deactivate your other shipping method other than external suppliers)
Help for postal codes of Quebec cities
In order to facilitate delivery by cities, we have created an article with postal codes for the 10 largest Quebec cities.