How to open and synchronize my Send by Machool account with my online store
Envoi, powered by Machool is the preferred provider for shipping your packages with the main providers of zero carbon shipping (Chasseur, Courant plus) and standard shipping (Canada Post, Dicom, UPS, Fedex, Purolator, Boxknight).
It will allow you to centralize the shipping of parcels with features specific to logistics.
You can use your own or their negotiated account numbers for competitive rates.
Opening an account is free.
Through this short tutorial, you will discover the steps to follow to open a Sending by Machool account and synchronize it to your online shopping cart. 
**If you currently use a Canada Post account, create a Machool account and link your Canada Post account.**
On your merchant interface Panierdachat
1. Open a Shipping by Machool account
On your merchant interface, click on the Settings tab (1) then Expedition (2).
Select the Recommended Supplier pane (3), then click on Open an account (4).
Fill the following informations:
2. Synchronize your online store Shopping Cart with Send by Machool
Once your registration is validated, click on the
3 dots
(5)
to configure the account.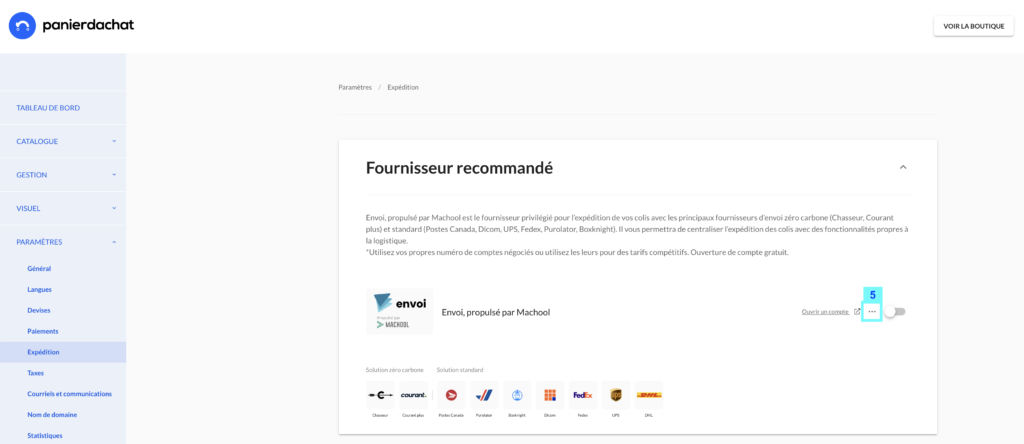 In order to synchronize your online store with Sending by Machool, copy the
API key
(6)
and
the secret key (7)
which you will then copy into your Sending account, powered by Machool.
In your Machool account, click on the Ecommerce tab (8), then on the section Panierdachat (9).
And
copy your 2 keys in the indicated fields

(10)
then click on
Connect.
3. Activate the Machool rates on your online store Shopping cart
Once the account is created, you must activate the Machool prices on your online store.
To do so, click on the + icon.
4. Activation of your account on your interface Panierdachat
Your store is now synchronized and your account number will automatically appear in the field below (11).
5. Enter your shipping information
Finally, to finalize the configuration of your account Sending by Machool, you must set up your shipping information (12).