Frequently asked question about
setting up your online store
How to accept credit card payments with Stripe?
Category Payments
Stripe is a well-known way of accepting credit card payments online everywhere in the world. For more information, visit www.stripe.com/ca.
Through this brief tutorial, you will learn the easiest way to set Stripe in your online store.
If you don't have a Stripe account, go to https://manage.stripe.com/register and create it.
Once registered and logged in Stripe, go to "API" on the left bar.
Make sure you are not on test mode ("View Test Data" should be off) and then, click on "Reveal live key secret" to get your secret key. To connect your Stripe account to Panierdachat.com, you will need these two keys: Live Secret Key and Live Publishable Key.
On the merchant interface of Panierdachat, click on Settings tab then Payments.
On the payment methods page, click on Credit cards (1) section to open the panel. On Stripe lane, click on the switch (2) to make the lane green. Click on the 3 dots (3) then Set up (4).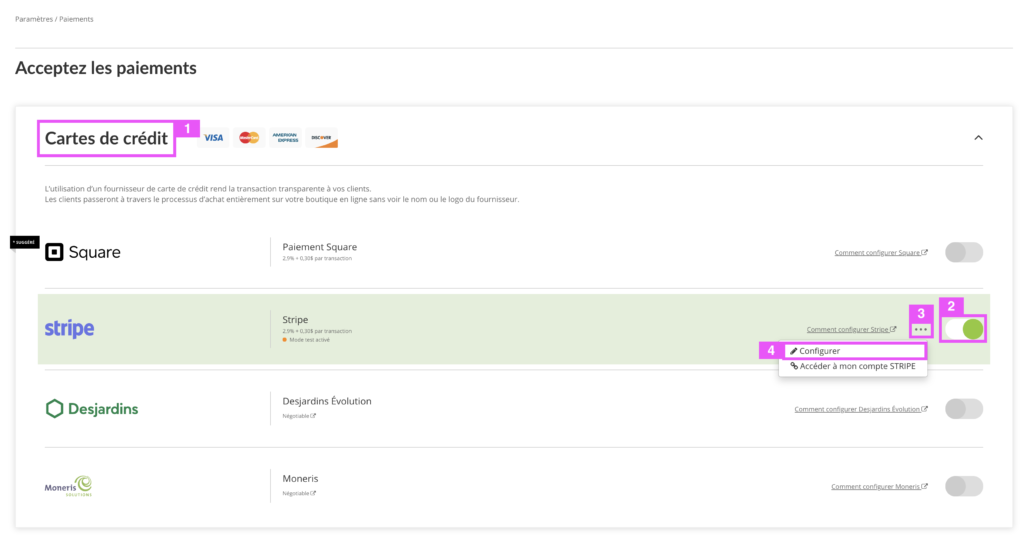 On the Stripe settings page, you can paste your Public key and Secret key. 
Save and here you go! Stripe is now fully functional and ready to process payments.
We recommend that you go through a transaction yourself to confirm you receive payments properly. A missing character in a key would be unfortunate!