How to accept credit card payments with Stripe?
Stripe is a payment method used worldwide as a processor for online credit card payments. For more information about Stripe, visit their website : https://stripe.com/ca.
Find the fees for all payment services available on Panierdachat here
Through this short tutorial you will learn how to set up Stripe at your Panierdachat.com online store.
On the merchant interface of Panierdachat
From your merchant interface, click on the Settings tab (1) then Payments (2), click on the Credit Cards pane (3) then click on the switch to the right of the Stripe line (4).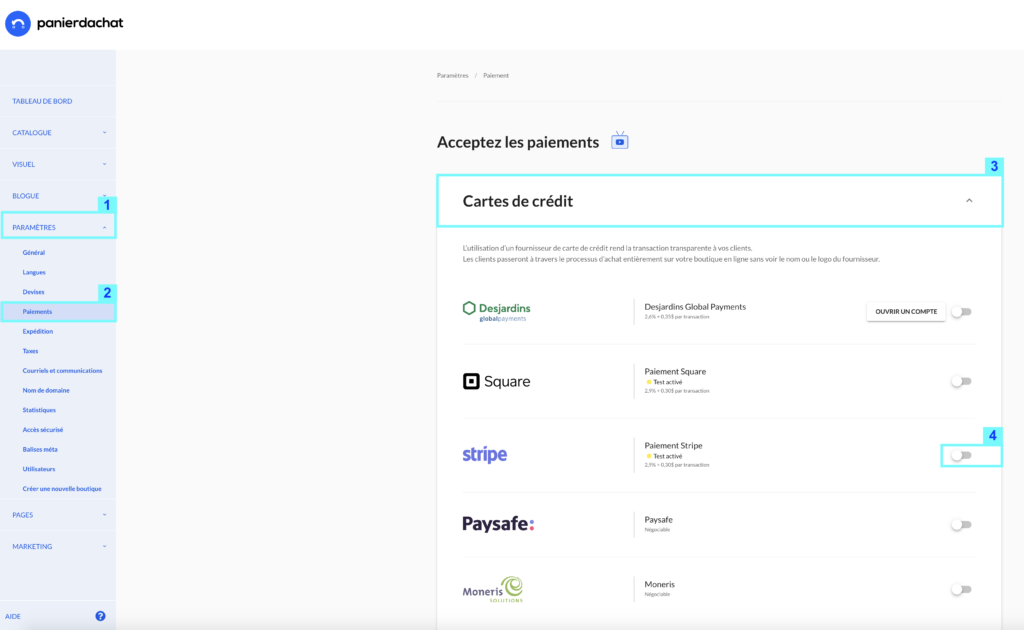 In the new page, you can create your account directly from the platform. Once it is created, click on the "Connect your account" button (5).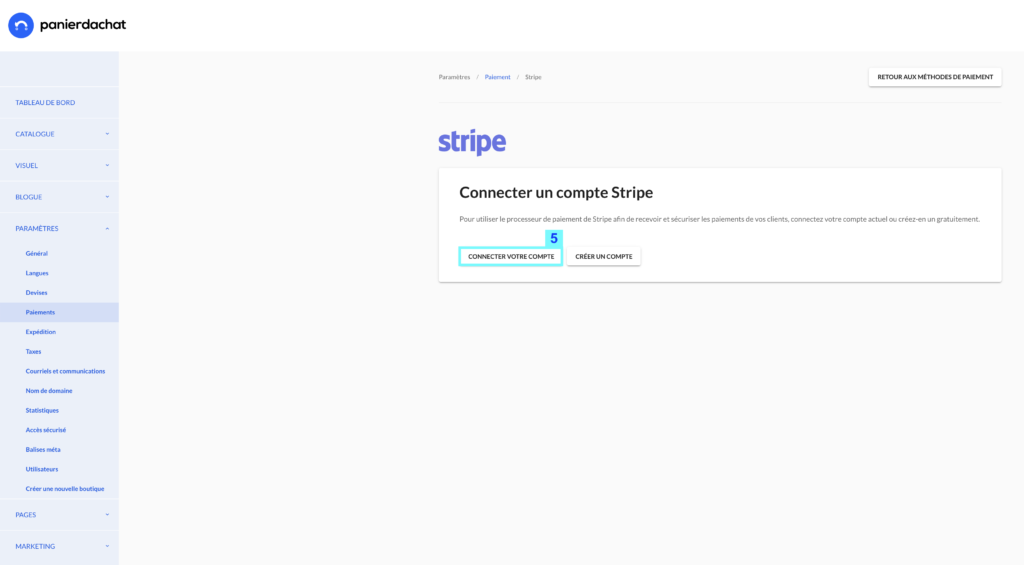 In this new page, Panierdachat will ask you to provide certain information for the activation of your account.
Fill in the fields requested in (6), (7), (8) and (9).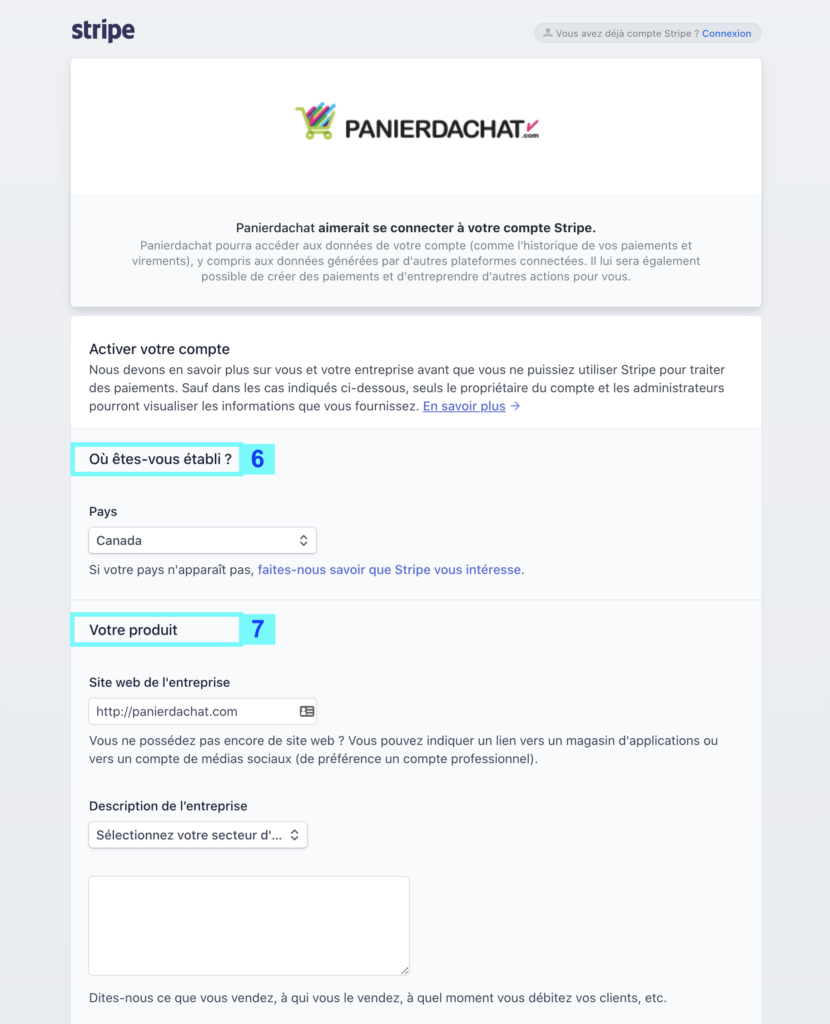 Enter your login (10) and password (11) for your Stripe account then click on Allow access to this account (12).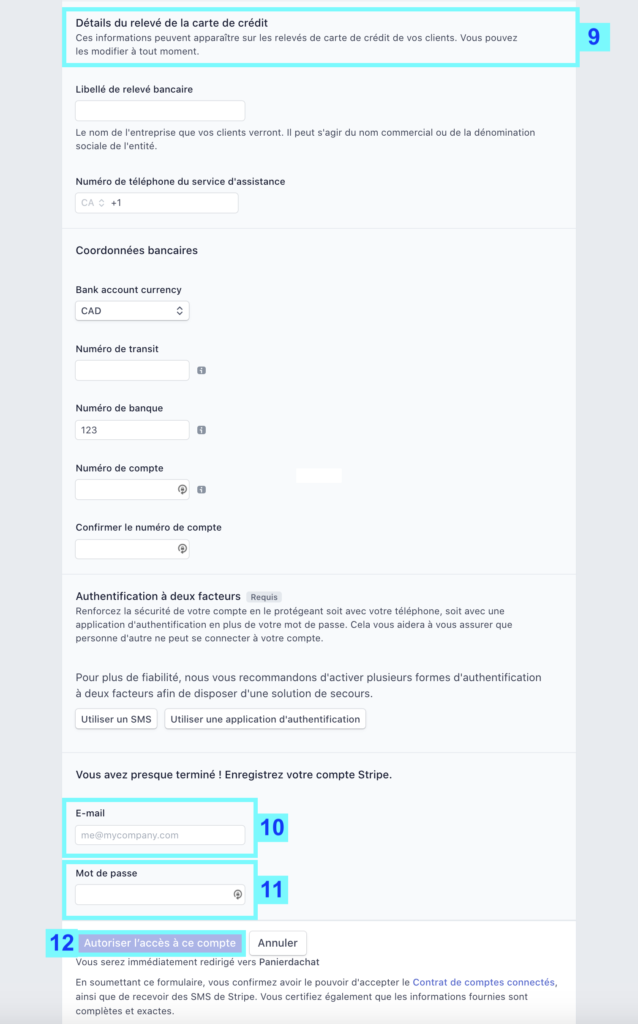 Your Stripe account is now connected (13). 
*NEW* You can now make credit card payment available only to your VIP / B2B accounts.
To do this, in the Stripe account configuration (14), activate the tab Available only for B2B / VIP accounts (15) then click on Save  (16).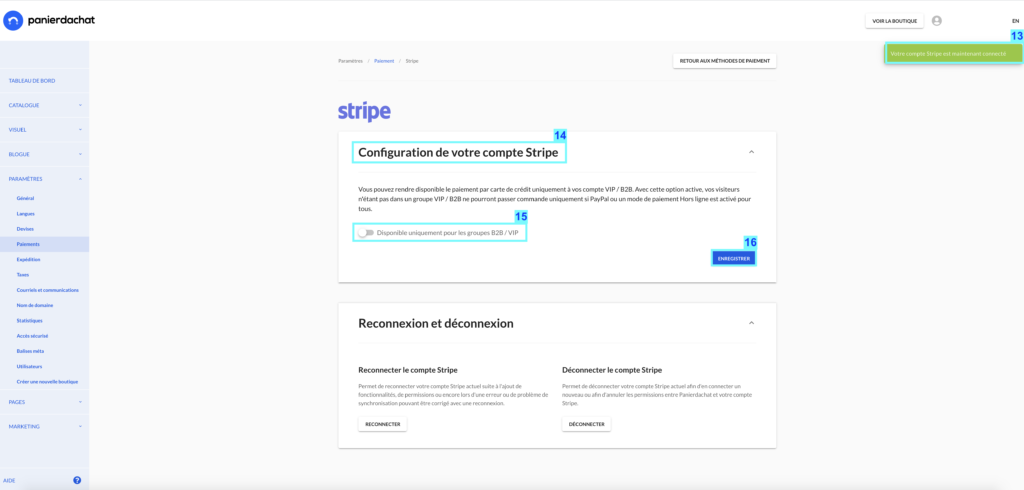 In the Payment page, make sure that the Stripe line is in green so that Stripe is active on your store (17).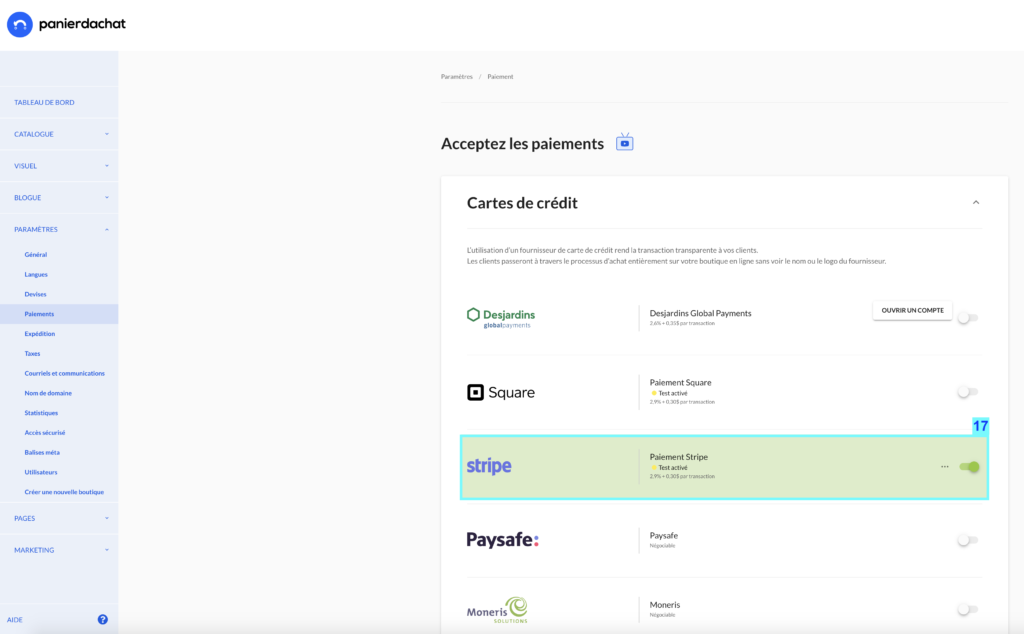 That's it, Stripe is now functional and ready to accept online payments on your store!
It is recommended to make a test transaction on your store, as if you were a customer. This will confirm that the payment is well deposited in your account and that everything is functional.
Old version of Panierdachat
Stripe is a well-known way of accepting credit card payments online everywhere in the world. For more information, visit www.stripe.com/ca.
Through this brief tutorial, you will learn the easiest way to set Stripe in your online store.
If you don't have a Stripe account, go to https://manage.stripe.com/register and create it.
Once registered and logged in Stripe, go to "API" on the left bar.
Make sure you are not on test mode ("View Test Data" should be off) and then, click on "Reveal live key secret" to get your secret key. To connect your Stripe account to Panierdachat.com, you will need these two keys: Live Secret Key and Live Publishable Key.
On the merchant interface of Panierdachat, click on Settings tab then Payments.
On the payment methods page, click on Credit cards (1) section to open the panel. On Stripe lane, click on the switch (2) to make the lane green. Click on the 3 dots (3) then Set up (4).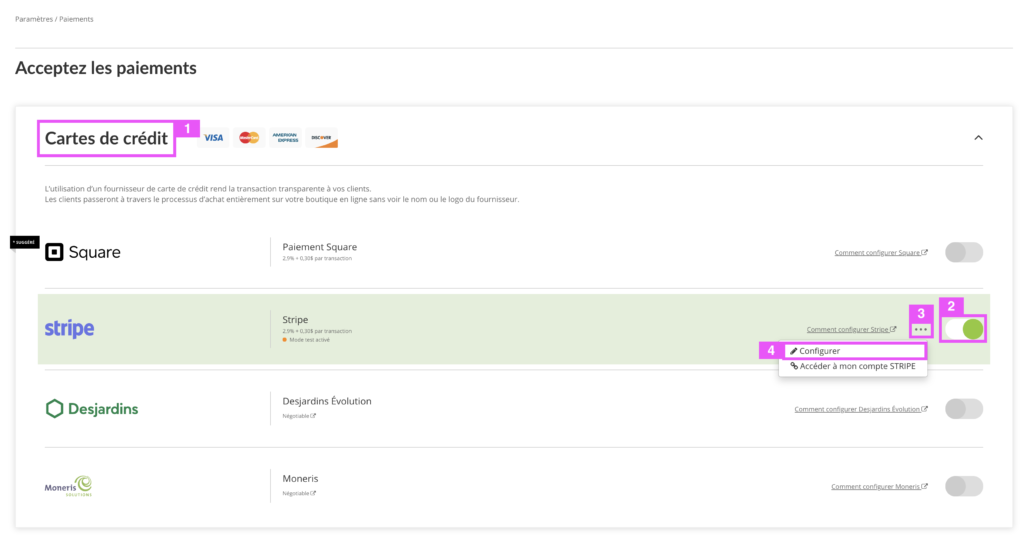 On the Stripe settings page, you can paste your Public key and Secret key. 
Save and here you go! Stripe is now fully functional and ready to process payments.
We recommend that you go through a transaction yourself to confirm you receive payments properly. A missing character in a key would be unfortunate!