Black Friday 2020: 4 marketing strategies to prepare you for it
November 27, 2020 will be "Black Friday". The busiest period of the marketing calendar!
In this year 2020, Black Friday will take a historic turn in the end-of-year buying season.
Current circumstances have reversed the trend of the traditional Black Friday model by changing buying habits and behaviors and pushing companies to go digital.
Online sales have thus taken a whole new trajectory. Adobe Digital estimates that online sales in 2020 could surpass total online sales for all of 2019 by October 5, 2020.
Will Black Friday be the same as every other year?
A Black Friday like no other
1. An enduring tradition
Black Friday remains a business and family tradition where families start shopping for their Christmas groceries the day after Thanksgiving, taking advantage of significant discounts. A custom that has become a worldwide tradition and that has been perpetuated over the years.
No doubt that Black Friday will take place this year, but in a different way.
2. The digital turn
Most retailers such as Target, Walmart and Best Buy have already indicated their intention to close their stores to avoid high-risk crowds, following a purely digital strategy.
3. Purchasing behaviour and expectations
Consumers, more comfortable, are turning more to online shopping.
Covid also highlighted the need to transform traditional supply chain models. Some consumers will opt for non-contact curbside pick-up options to ensure that items purchased online are not out of stock. 
Despite the current situation, Rakuten Advertising's consumer survey revealed that more than 70% of consumers do not plan to reduce their spending during this period.
Usually associated with non-essential products, mainly clothing and electronics, Black Friday now includes new categories of essential products such as DIY accessories, household appliances and fitness equipment.
With the increased and unprecedented popularity of e-commerce, the 2020 Black Friday season could be the best Black Friday season ever. 
So what do you need to do to prepare for Black Friday?
You will need, first and foremost, a reliable, secure website that can handle a multitude of online shoppers simultaneously to prevent your site from crashing; and that can deliver the exciting Black Friday experience that your customers expect. Don't worry, Panierdachat ensures server maintenance by reinforcing its servers on busy days to allow smooth and comfortable browsing for your customers.
New challenges, new marketing strategies
The psychology of Black Friday
Black Friday has a powerful psychological character since, due to its exclusivity and rarity, it creates a sense of urgency in the client who is afraid of missing a deal. The FOMO effect, or the fear of missing out, has an important influence on purchases.
In this context, and taking this into account, a good digital marketing strategy is more than ever essential to make the most of your business and increase sales on Black Friday.
Here are our recommendations and good practices to implement. 
1. Anticipate to captivate attention and create suspense
Typically, Marketers anticipate their marketing strategy for Black Friday by one week. According to a study by Coresight, a third of consumers will make their vacation purchases on Amazon Prime day (which could start in early October), while only 15% said they would buy on Black Friday instead.
We thus advise you to start as early as October in order to start captivating the attention of your customers.
Our recommendations :
Email and social network marketing is a good way to put your loyal customers on the spot to encourage them to take advantage of deals on certain items before they disappear.
Think about making segmented e-mail lists (thanks to Mailchimp) of your customers' previous orders and their product preferences. Thanks to our sales reporting tool, it will be very easy for you to obtain this information and get to know your customers better.
Make sure your customers feel special by creating personalized emails.
2. Create a sense of urgency
By provoking this sense of urgency in your customers, they will have a different way of thinking about your offer. Many techniques are used for this.
Our recommendations :
Create a banner alert message on the home page such as announcing the number of people shopping recently on your site, generating a fear of missing an opportunity.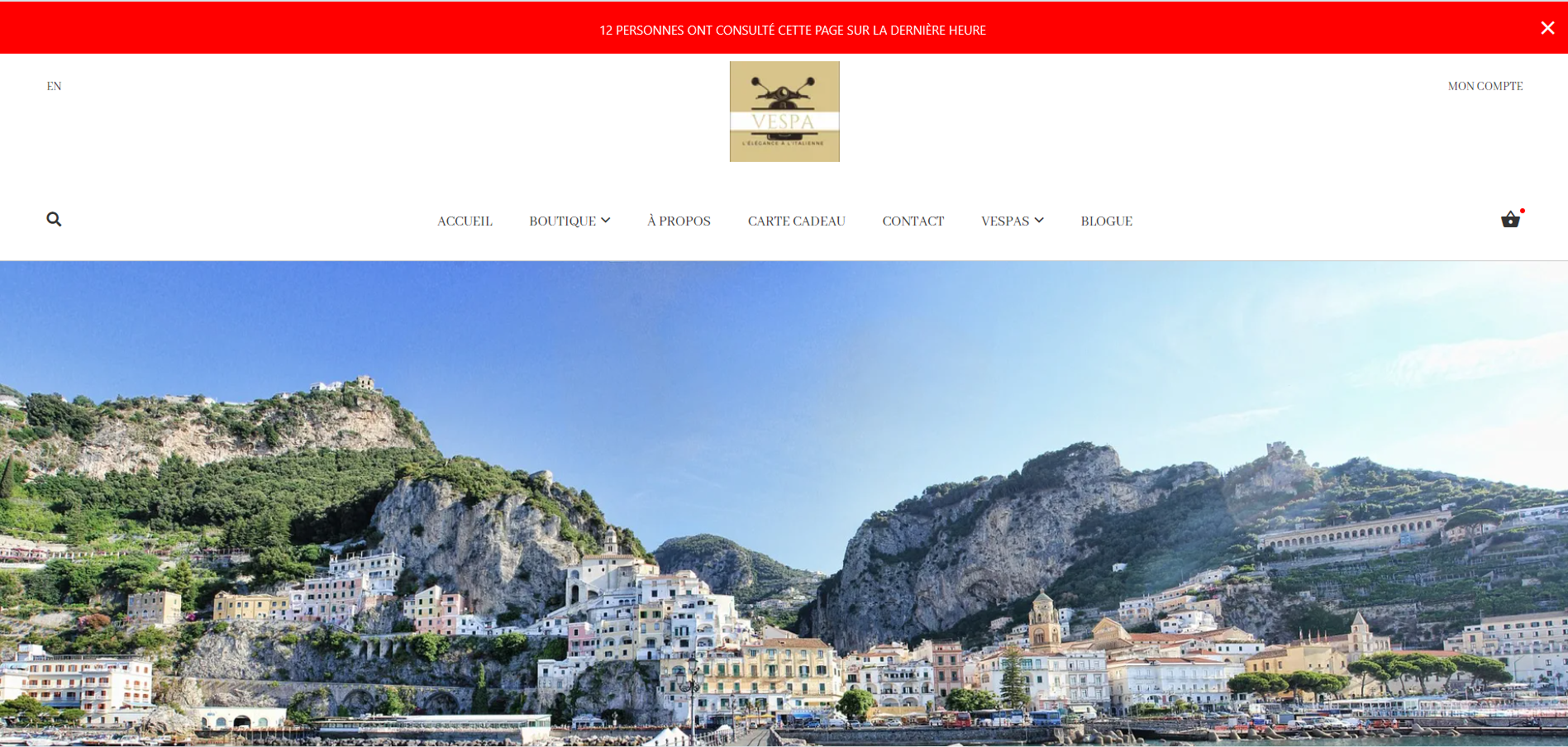 Use impatient words such as "don't miss", "last", "immediately", etc.
Use impactful colors such as red or orange for your message
Or use the famous countdown timer on the home page: Nothing could be simpler thanks to our pop up feature. Several sites offer countdown generators, including countingdownto.com
We advise you to set the end of the countdown to the end date of your promotion: "30% discount on all our products online! You only have 8 days and 7 hours left to enjoy it!"
Finally, don't use this option as a deterrent to access: don't try to create false information, stay honest
3. Create rarity
In these times, one of the main concerns of consumers is the availability of products.
Our recommendations :
Limit the availability of a product by displaying in real time the number of remaining quantities of the product in question.
Very simple to manage at Panierdachat with our out-of-stock o our out-of-stock feature.
4. Build exclusivity
This holiday season is likely to see cautious consumers curbing their spending. Better understand your customers so you can better meet their expectations. Be close to your customers by personalizing your service and creating exclusive offers.
Our recommendations :
You can promote a special offer reserved exclusively for your members.
Take advantage of this opportunity to showcase exclusive products that you have just received.
Offer rewards or gifts for the first 10 buyers
For more strategies, you can also refer to our 2019 Black Friday article,
Try Panierdachat free for 14 days
Create a professional online store easily and start selling to your full potential!
Start your free trial